Using your Location in Instagram Stories Harnesses More Traffic!
Instagram location stories are a great way to increase brand awareness and grow your Instagram account. You can gain even more targeted exposure by using Instagram Stories.
Instagram location stories are a great way to get more local exposure for your brand on Instagram. This is great for businesses with brick and mortar locations or those trying to target a specific area. Instagram location stories can make your story discover-able under the location tag search to new users.
Using location stickers can help your story get pulled into the larger location story which is found on the explore feed. For example, I used a location sticker when sharing an Instagram Story at a client's location. My story got pulled into the "Bohemia" location story which gave the story 10x more views!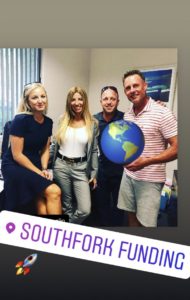 Use Location Stickers to Get Noticed
There are two types of location stickers. The first is the literal location sticker, which allows you to tag an address or physical location in your story. The second, and lesser known variation, are the city-specific stickers which show up based on your location.
These stickers do more than show your followers what city you're in. They're clickable and can help your story become a part of the get larger location story that appears on the explore page. Think of how many extra eyes this draws to your story!
Here's how to add location stickers:
Snap a photo or video.
Click on the "Sticker" icon (the smiley face on the upper right.)
Click on the "Location" sticker or the funky looking "City" sticker.
The sticker will pop up on your screen and you can then customize it.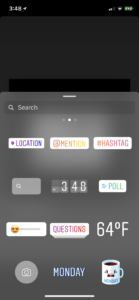 You can also use location hashtags and hashtag stickers for even more exposure.
1. Tag up at various events
Take advantage of any business events you attend and share Instagram location stories from the event. It's a cool way to add behind the scenes sort of content for your followers.
2. Highlight local happenings
If you are a local business looking to build a targeted audience it can be useful to highlight events or things happening in your neighborhood, city, and other places nearby.
3. Tag your own location frequently
Use Instagram location stories for your own business. Use a combination of tagging your location with a fun location sticker or local hashtag. Anyone who looks up that location will be able to see your stories as well!!
4. Use a combination of location stories with poll stickers for more success
Combine location stickers with Instagram poll stickers? Get your audience to interact with you by asking questions about a specific location.
5. Connect with others in your location
Another way to use Instagram location stories to your advantage is to watch the stories that are posted to your location. You can even reply to stories from brands and users posting to your city or town. This is an  easy way to use direct messages to get in front of people who are likely to visit your location and increase brand awareness.